Welcome to Fransøyra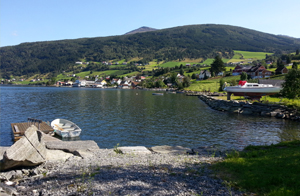 The cabins at Fransøyra are located in Utvik, 44 km from Stryn.
Both cabins you will find 3-5meter from the water's edge of the beautiful "Nordfjord". In the fjord it is possible to fish or just go rowing. Both cabins have the disposal of a rowboat. In Utvik and the areas around there are good possibilities for trips in the mountains.
Hyttene ligg ca. 400 m vestover frå Utvik sentrum. I sentrum er kolonialbutikk, kafé, kunstutstilling og kunsthandverk. Her finn du og Utvik kyrkje. Den er open på dagen om sommaren.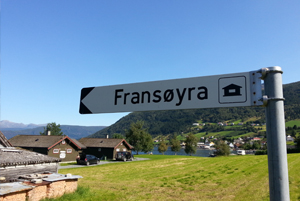 In the winter you can og skiing on "Utvikfjellet". Here you can do cross country skiing all the way to the Jostedal glacier. You can also do down hill skiing.
From Utvik you can take trips to "Briksdalen" – "Lodalen" – "Strynefjellet" og "Geiranger". You can also visit "Selje" and "Vestkapp".
In Jølster, Sandane and Hornindal you will find different kind of museums. It is also possible to go rafting in the river called "Jølstra".
On the "Fjordhorsegarden" at Breim you can go riding with the "Fjordhorse". Short and longer trips for children as well as adoult are available.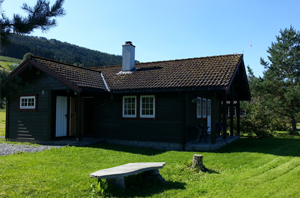 The cabins have got 2 bedrooms with double beds. In the attic there is 3 mattresses. The bathroom contains a shower, WC and a washing machine for clothes. In the kitchen there is a kitchen range, dishwasher, fridge with freezer and coffee machine.
The living room contains a fire- place and a TV. You can go directly from the living room to the terrace by the water with garden furniture and a grill.
Welcome to a peaceful and quite holiday between fjord and mountains.
---